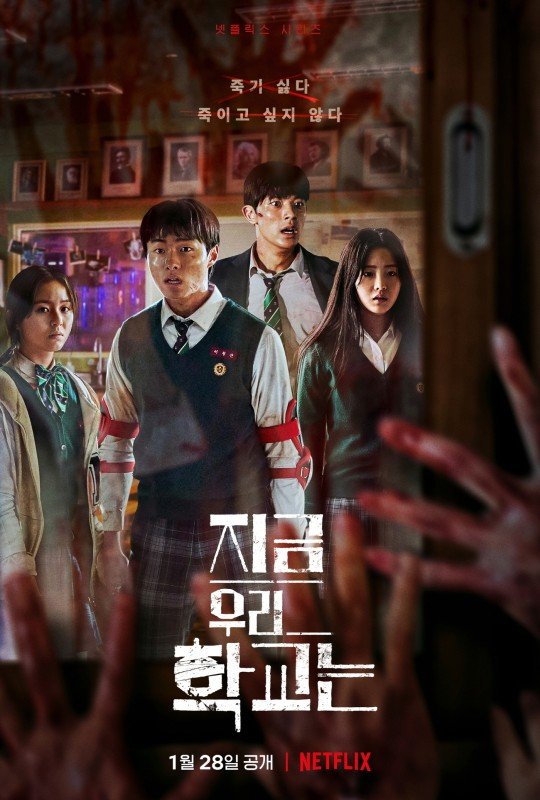 Sinopsis Drama All of Us Are Dead (2022):
Drama ini mengisahkan para siswa SMA Hyosan yang terperangkap di sekolah dan mencoba menyelamatkan diri dari wabah virus zombi. Mereka harus segera keluar dari sekolah sebelum terinfeksi dan menjadi zombi. Sejumlah siswa yang terinfeksi berubah menjadi zombi ganas dan menyerang siwa lainnya. Demi bertahan hidup, para siswa berupaya melawan zombi menggunakan barang-barang yang ada di sekolah, seperti kursi dan meja.
Para siswa mau tidak mau harus bersatu untuk bertahan hidup melawan kawanan zombi yang berkeliaran di lorong-lorong sekolah. Hal itu juga membuat mereka harus bertahan di dalam kelas. Mereka kemudian mencari bantuan dari luar. Namun, orang-orang termasuk polisi tak percaya dengan panggilan minta tolong tersebut. Polisi menyepelekan panggilan itu bahkan menilainya sebagai lelucon.
Beberapa siswa terus berupaya menghubungi polisi untuk meminta bantuan tapi selalu dianggap sebagai gurauan belaka. Hingga akhirnya seorang polisi mulai curiga dan meminta anggota yang lain memeriksa SMA Hyosan. Situasi yang semakin memburuk membuat pihak berwenang mengumumkan keadaan darurat. Mereka juga mengisolasi tempat kejadian tersebut terjadi.
Detail
Drama: All of Us Are Dead/ 지금 우리 학교는
Also Known As: Our School Now , Now at Our School , School Attack , Jigeum Uri Hakgyoneun , Jigeum Uli Haggyoneun
Screenwriter: Chun Sung Il
Director: Lee Jae Gyoo
Genres: Action, Thriller, Horror, Sci-Fi
Country: South Korea
Episodes: 12
Aired: Jan 28, 2022
Aired On: Friday
Original Network: Netflix
Duration: 59 min.
Pemeran Utama
Park Ji Hoo sebagai Nam Ohn Jo
Yoon Chan Young sebagai Lee Cheong San
Jo Yi Hyun sebagai Choi Nam Ra
Park Solomon sebagai Lee Soo Hyuk
Yoo In Soo sebagai Yoon Gwi Nam
Pemeran Pendukung
Kim Byung Chul sebagai Lee Byeong Chan
Lee Kyu Hyung sebagai Song Jae Ik
Lee Yoo Mi sebagai Lee Na Yeon
Download Drama Korea All of Us Are Dead Subtitle Indonesia
Source & Encoder
Nodrakor.icu, Narashik.pro, Drachindo.net