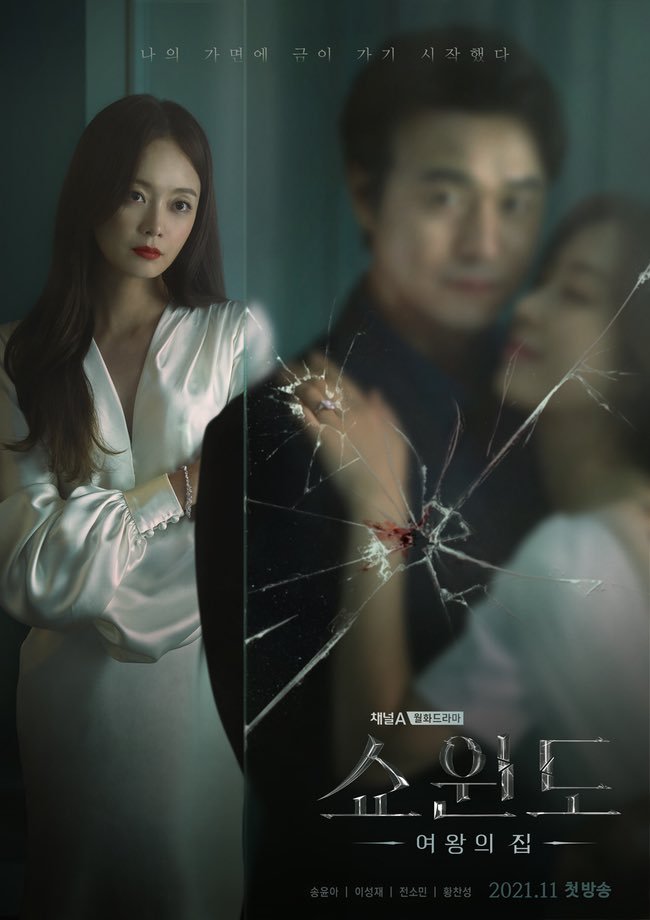 Sinopsis Drama Show Window: The Queen's House (2021):
Drama baru ini akan menceritakan sebuah kisah tentang seorang wanita yang tidak mengetahui bahwa dia adalah wanita dari suaminya dan mendukungnya dalam perselingkuhan. Keseruan dalam drama permainan psikologis karakter yang ditipu.
(Song Yoon-ah) Han Seon-joo, yang memiliki segalanya kecantikan, kecerdasan, dan kekuatan finansial, sementara Lee Seong-jae berperan sebagai suami Han Seon-joo bernama Shin Myeong-seop.
(Jeon So-min) Yoon Mi-ra, seorang wanita baru yang mengguncang hati Shin Myung-seop, dan Hwang Chan-seong memerankan adik Han Seon-joo bernama Han Jeong-won.
Di sisi lain, adik Han Seon-joo, yang memiliki hati yang positif dan hangat, percaya dan bergantung pada kakak perempuannya Han Seon-joo lebih dari siapa pun, dan memiliki tekad bahwa dia bisa melakukan apa saja untuknya.
Hal Ini menimbulkan rasa ingin tahu tentang bagaimana persahabatan kakak dan adik yang begitu mesra akan mempengaruhi permainan psikologis yang sengit dalam drama ini.
Detail
Drama: Show Window: The Queen's House/ 쇼윈도:여왕의 집
Also Known As: Syowindo: Yeowangui Jib
Genres: Thriller, Mystery, Romance, Drama
Country: South Korea
Episodes: 16
Aired: Nov 29, 2021 – Jan 18, 2022
Aired On: Monday, Tuesday
Original Network: Channel A, Viki
Duration: 60 min.
Cast
Main Cast
Song Yoon Ah as Han Sun Joo
Lee Sung Jae as Shin Myung Sup
Jun So Min as Yoon Mi Ra
Hwang Chan Sung as Han Jung Won
People around Han Sun Joo
Kim Seung Soo as Cha Young Hoon
Moon Hee Kyung as Kim Kang Im
?? as Shin Tae Hee
Park Sang Hoon as Shin Tae Yong
The Townhouse
Kim Hae In as Cha Eun Kyung
Lee Sun Jin as Park Ye Rang
Oh Seung Eun as Christina Jung
Kim Young Joon as Ahn Do Hyuk
Kim Jung Tae as Lee Joon Sang
Others
?? as Han Yun Joo
Kim Byung Ok as Kang Dae Yook
?? as Tango Master
Jung Jung Ah as Mrs. Jung
Download Drama Korea Show Window: Queen's House Subtitle Indonesia
Source & Encoder
Nodrakor.icu, Dramaencode.co, Drachindo.com
Jadwal tayang SENIN & SELASA di Korea.