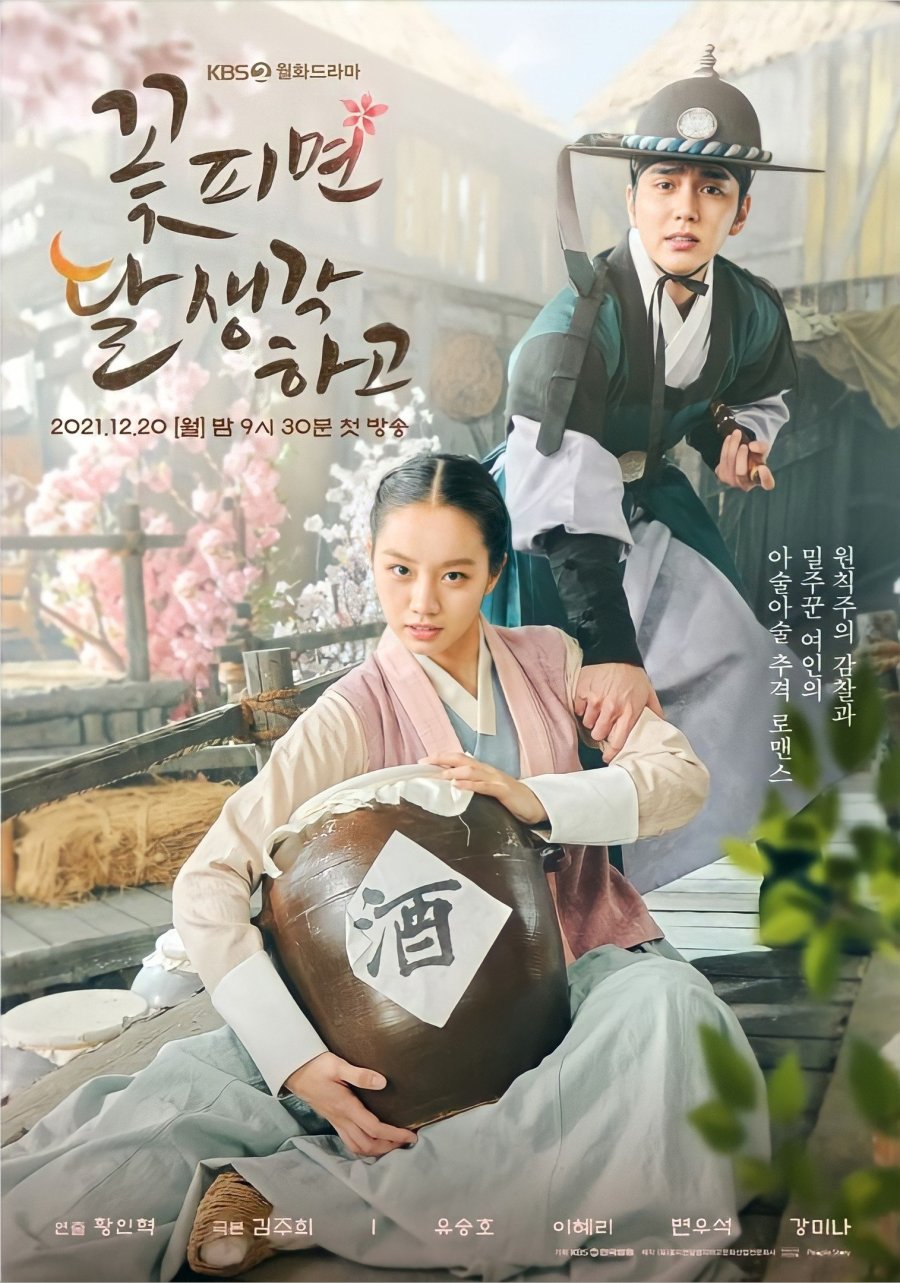 Sinopsis Drama Korea Moonshine (2021):
Drama Moonshine ini berlatar jaman Joseon yang penuh dengan larangan dan tantangan. Monnshine akan menceritakan tentang kehidupan seorang inspektur bernama Nam Young (Yoo Seung-Ho).
Ia pergi dari kampung halamannya untuk mencari kepopuleran di Hanyang dan memulihan status keluarganya. Dan di perjalannnya itu, ia akan terlibat dengan seorang wanita bangsawan yang miskin bernama Kang Ro-Seo(Hyeri ) yang bekerja membuat alkohol untuk mengurangi hutang dan membeli obat untuk ibunya.
Tak hanya itu, mereka berdua akan terlibat dengan putra mahkota yang secara rahasia memanjat tembok istana untuk menemukan simpanan alkohol. Keseruan mereka bertiga ini sangat berbahaya jika terungkap.
Detail
Drama: Moonshine/ 꽃 피면 달 생각하고
Also Known As: Thinking of the Moon When Flowers Bloom , Flower Blooms, Moon Shines , Thinking of the Moon When the Flower Blooms , Kkot Pimyeon Dal Saenggakhago , When Flowers Bloom, I Think of the Moon
Screenwriter: Kim Joo Hee
Director: Hwang In Hyuk
Genres: Action, Historical, Comedy, Romance
Country: South Korea
Episodes: 16
Airs: Dec 20, 2021 – Feb 15, 2022
Airs On: Monday, Tuesday
Original Network: KBS2
Duration: 1 hr. 10 min.
Cast
Main Cast
Yoo Seung Ho as Nam Young
Hye Ri as Kang Ro Seo
Byun Woo Suk as Lee Pyo
Kang Mi Na as Han Ae Jin
Supporting Cast
Choi Won Young as Lee Shi Heum
Jang Gwang as Yeon Jo Moon
Im Won Hee as Hwang So Yoo
Kim Ki Bang as Chun Gae
Bae Yoo Ram as Kang Hae Soo
Seo Ye Hwa (서예화) as Geum Yi
Byeon Seo Yun (변서윤) as Queen Yeon
Download Drama Korea Moonshine Subtitle Indonesia
Source & Encoder
Nodrakor.icu, Dramaencode.co, Drachindo.com
Jadwal tayang SENIN & SELASA malam di Korea.